Who ever uses fine yarns for their hand-knitted creations has probably stumbled over some balls of wool labeled "Pascuali". Barbara paid Paul Pascuali a visit at his home in Pulheim-Brauweiler (near Cologne) to have a deeply interesting conversation:
First of all, I was quite surprised as I imagined Paul Pascuali being much older for some reason. Well, he is 29, married with two kids he tells me. In his pronunciation I detect that he must have spent a long time in a spanish speaking country. After asking about his heritage he explains that at the age of two he, his german Mother and italian father moved to Argentina. His parents moved back to Germany during Argentinas deep recession in 2001. He follows them in ´03 and returns to Germany as well.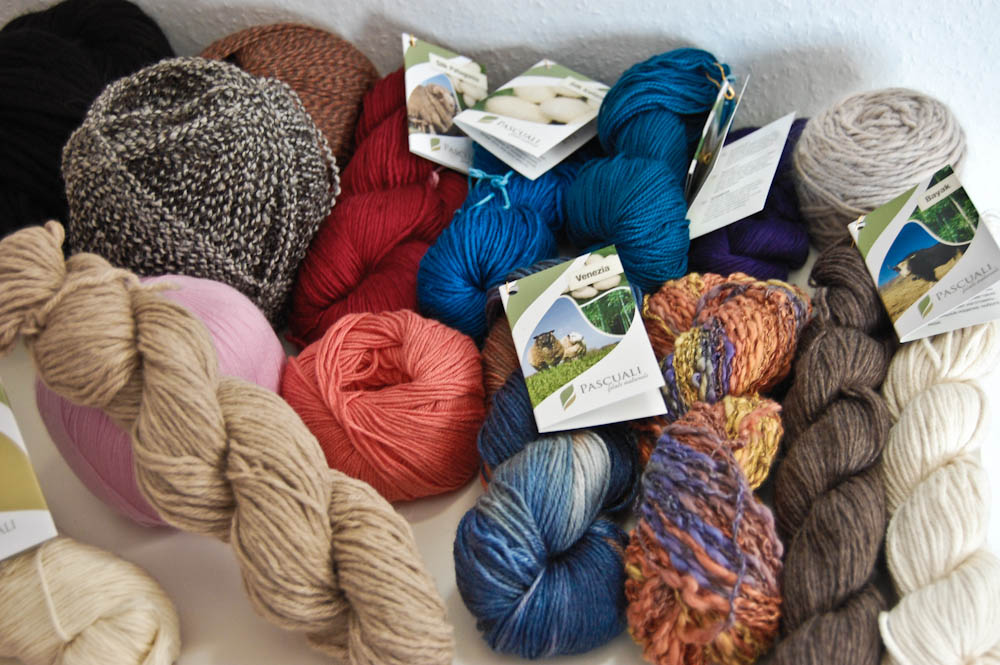 Through his wife, who studied fashion, he soon got interested in wool. In his professional plans the idea to support the impoverished people of Argentina who suffered under the recession turned out to be crucial. He decided to import merino-wool from this area and was amazed at how well this wool sold in germany. Thats the beginning of Pascuali-Wool.
Based on his guiding principle "only the best fibers for best fashion collections" Paul Pascuali seeks and finds manufacturers of different kinds of fine wool.
In his office he shows me part of his wool range. For example delicate and soft baby alpaca wool or a 22g ball of his exclusive wool made of musk ox hair, which is actually eight times warmer than sheep's wool as well as being softer than the kashmir goat's undercoat. This ball is sufficient enough to knit a pair of warm protective sleeves. He isn't compromising on his Kashmir wool either, as he knows that kashmir quality worldwide varies immensely. Even higher-grade wool can be produced from vicugnias, whose wool has already been cherished by the Incas. He proudly reports to be one of only three suppliers.
His yarns are not only made from animal hair but from plant based materials as well. Corn, soy and bamboo have positive wearing attributes. They are temperature balancing, breathable and are even equipped with some antibacterial properties. One of the newest yarns are made out of milk protein fibers which in turn are actually made out of milk. Paul Pascuali explains: "If you let Milk sit, a solid layer settles on top, the so called casein. From it, fibers with a satin gloss, softness and furthermore skin caring attributes, are eventually obtained." The unique trait of Pascuali-Wool is, that it's being made from 100% milk protein which makes it suitable for babies clothing.
It is very important to him, that production is managed to highest social and ecological standards. Therefore he visits all manufacturers himself to get an on location idea of the compliance with Fair Trade standards.
Last october he travelled to the north west of Argentina to witness the vicungnias shearing. As these animals, who belong to the camel family, live in heights of 3500 – 6000m in the Andes. Paul went to extreme lengths when he had trouble adjusting to the low oxygen content in those heights, only to find, that because of the early winter the animals wouldn't neither be driven into town nor sheared. Paul completely supports his manufacturers in Argentina as he can be sure that the protection of these endangered animals is always more important than profit. In other countries where vicugnias are sheared discarding the low tempratures only to freeze to death. That's definitely not in his interest.
Wool is not just a business or a source of income to him, he really transports the passion he feels towards the manufacturers, animals and processes through his products, which can only manifest itself positively in the diversity and quality of Pascuali-Yarns.Paul Pascuali
Over Time, Paul Pascuali accumulated a vast specialist knowledge and technical know how in the wool sector. As this was not enough for him, he decided to study textile and clothing technologies at the university of applied sciences "Hochschule Niederrhein" in Mönchengladbach. His interest lies in research and further development of fibers. If you consider, which kinds of precious yarns Paul currently provides for us knitters, we can already get excited about what he'll do after his studies.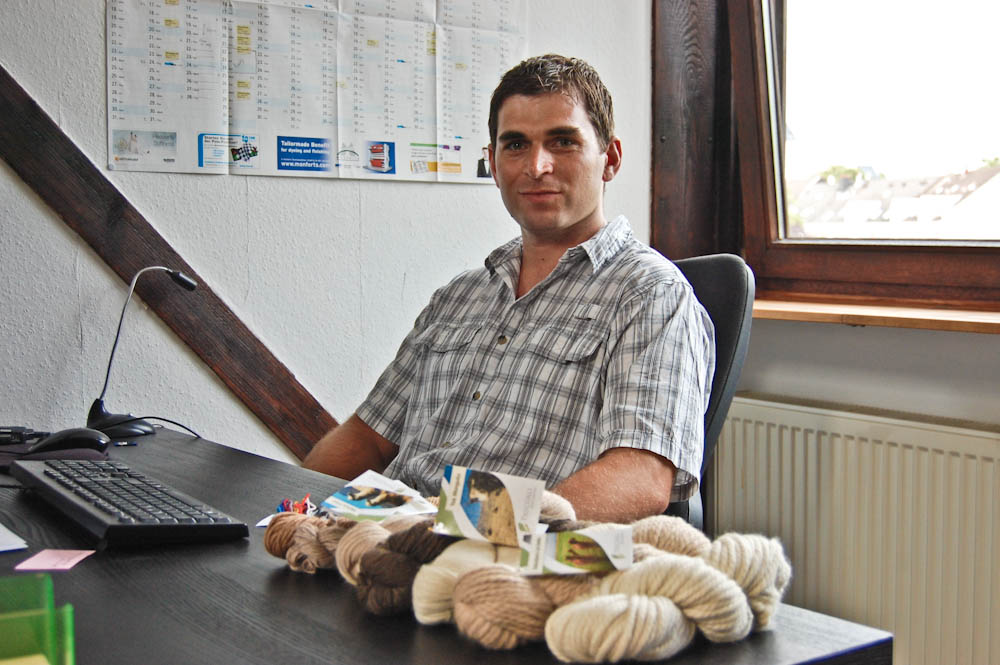 I was quite interested in Paul Pascuali customer base and who they are. Without any hesitation he tells me, that they are mainly women aged 30-55 ordering in his online-shop. Since his online-shop is currently only available in german, most of his costumers are from Germany, Switzerland and Austria. Launching october pascuali.eu will be available in spanish, english and russian to also cater to the needs of customers abroad.
He works with many test-knitters, to whom he sends his products for free in exchange for an honest opinion on their blogs as well as pictures of whatever they decided to knit. Paul is thereby giving customers a chance to review different opinions to different yarns of his, as well as an idea of what a finished product could look like. I believe, this is a very good approach.
Paul Pascuali also knows, that knitters do like to feel the wool they are getting into. The tactile experience can transport the great quality of his yarns best. For that reason he offers free sample cards with no additional cost for shipping, so you can evaluate color, smell, softness and everything thats important to you in the comfort of your own home before actually buying anything.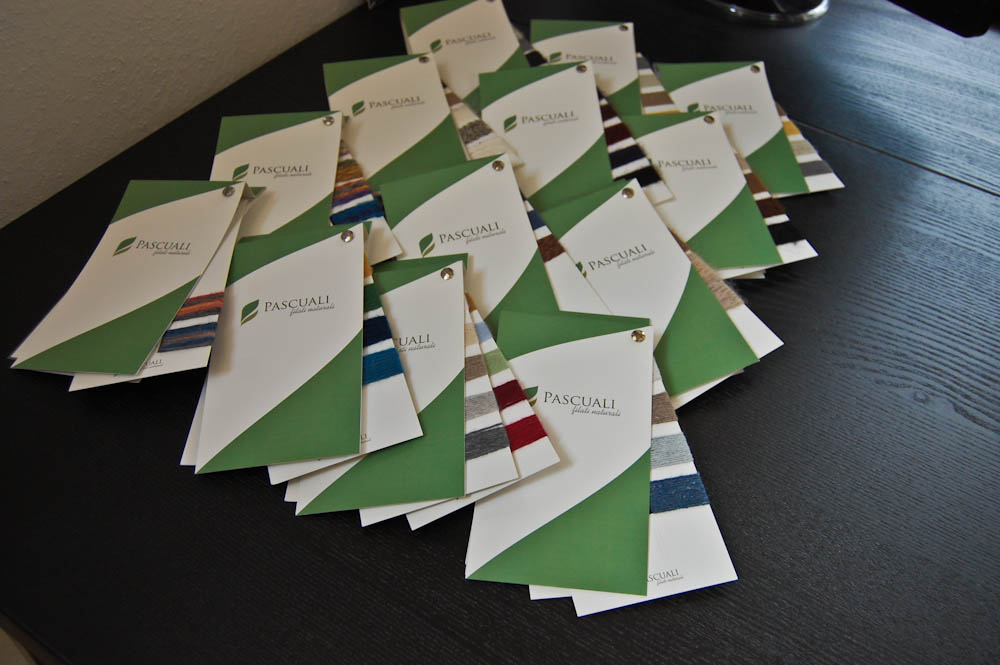 One of his rules is to always ensure his customers highest satisfaction with not only his products, but the service he provides. His seller rating of excellent at Trusted-Shops only underline this fact.
Answering highly diverse questions surely is another big part of his customer care. Especially questions of pro-knitters can be so very specific, that Paul in turn has to use his network containing his wife, employees, test-knitters and in rare cases even other customers to find the answer.
I am genuinely convinced that we haven't heard the last of Paul Pascuali, since his wool is not just a business or a source of income to him, he really transports the passion he feels towards the manufacturers, animals and processes through his products, which can only manifest itself positively in the diversity and quality of Pascuali-Yarns.
Paul Pascuali, I thank you very much for devoting so much time to me. I really got to know a great person with great yarns and wish you great success in realizing your aspiring plans.